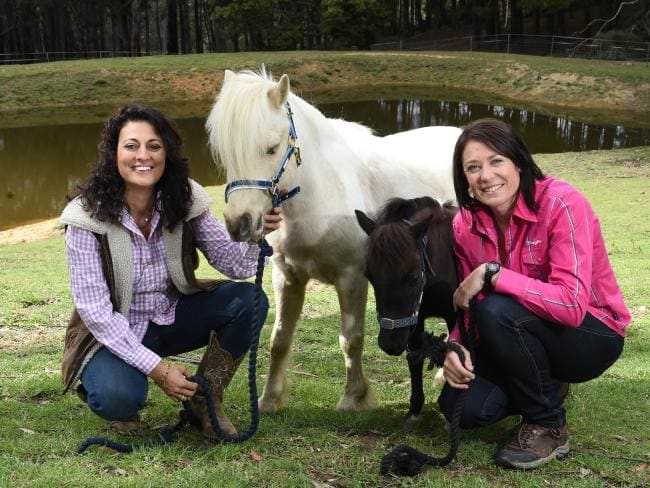 MINIATURE ponies will be a part of a pioneering psychology therapy for children, which will be rolled out by a Balmain clinic.
Clinical psychologist and director of the clinic Kids & Co, Anna Cohen, said horses are a powerful treatment tool as they mirror people's behaviour and are able to read body language and situations.
"The horse is giving direct feedback, so for instance if a child might be struggling with making friends and the horse may be a bit stand-offish, we can talk to the child about what they can do directly to bring that horse in close," she said.
"So we're giving direct experience as to what they can do with social skills to interact more effectively, so they do it with the animal and then we generalise that into the world they exist in.
"The goal of this approach is to assist clients to identity and manage their behaviour and emotions and to use communication and social skills to interact effectively with others."
The treatment will be used for children with conditions such as depression, anxiety, eating disorders, some mood disorders in general and impulsive control disorders like attention deficit disorder and conduct disorder, Dr Cohen said.
She plans to bring out a miniature pony once a month to the therapy room, as well as running group sessions in the Blue Mountains — with the aim that the horses will be a vehicle for change.
"I don't know of anyone in the world who is doing this in the world quite like we are. We have an equine specialist that is working with the horses, plus the clinical psychologist and the child," she said.
"The pony we are going to bring down is called Mirror Image, which is the name he came with, which is fascinating as we talk about horses mirroring emotions and behaviours. He is only 38 inches tall, but has this huge horse personality and loves to play with kids and wants to be up for a game. He's a bit of a rascal."
■ The clinic will hold an open day on November 12 from midway until 2pm, with miniature pony Mirror Image the guest of honour. There will also be face painting and children's activities.
■ Dr Cohen said lot of research is coming out with using horses with people with eating disorders, severe complex trauma and a lot of work is happening with Vietnam vets and from other wars. In Australia the pilots that have occurred are with juvenile justice.
■ The therapy aims to address confidence, self esteem, communication, trust and help with boundary setting